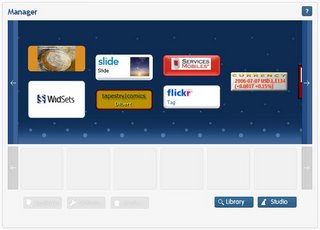 Tout le monde connait les Widgets (sinon
voir ici
) sur PC, ici c'est la même chose sur mobile.
WidSets propose donc de visualiser des Widgets sur une large gamme de mobiles
. Très simple à installer, il suffit de s'inscrire sur le
site
login/password et N° de mobile, un SMS cliquable vous est envoyé dans les 30 secondes, il suffit de cliquer dessus pour télécharger l'application sur votre mobile. une fois installée sur votre PC vous faites votre "marché" en choisissant des WidGets qui vous plaisent dans une librairie assez bien fournie : Blogs, application de change, jeux, infos, Flickr, Slide,... un simple drag and drop sur l'écran, appuyez sur "Synchroniser" et c'est fait. Grâce à votre mobile vous pouvez accéder à toutes vos infos, photos et autres choix.
Pour les webmasters ou les Blogger, vous pouvez créer votre Widget et le mettre à disposition des utilisateurs. Il ne m'a fallu quelques secondes pour le créer, le plus long à été la création de l'image 120*80 qui le caractérise.
Ce blog
est donc accessible sur WidSets dorénavant.
Libellés : 04, application, mobile, utile
Permalink -
0 Commentaires
Links to this post:
Pages >>>>> 25 24 23 22 21 20 19 18 17 16 15 14 13 12 11 10 09 08 07 06 05 04 03 02 01
Top Tags >> mobile (>160) startups mobile (>140) utile (79) application (70) etonnant (41) reflexion (21)...