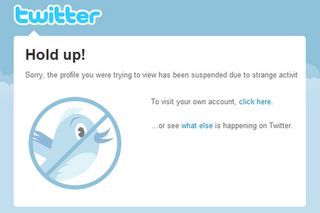 Je suis très peiné par ce qui arrive en ce moment même à Frédéric Lefebvre, non pas pour lui car personnellement
quelqu'un qui décrit Internet comme suit
:
"les trafiquants d'armes, de médicaments ou d'objets volés et les proxénètes ont trouvé refuge sur Internet, et les psychopathes, les violeurs, les racistes et les voleurs y ont fait leur nid"
ne mérite même pas qu'on s'y attarde et je regrette déjà d'y avoir consacré ces deux lignes
.
Ce qui me peine plus c'est la réaction des internautes
. Je vous rappelle les faits, Frédéric Lefebvre après avoir critiqué Twitter décide d'ouvrir un compte Twitter qui est rapidement bloqué car certains internautes l'ont signalé comme spammeur
(sur le principe ça ne ma plaît pas, même si je trouve ça trop drôle...)
.
(Update ce matin 27 : Pour les curieux qui habitent sur Mars et n'auraient pas suivi l'affaire :
Rue89 y relate les faits plus précisément
.)
Ce qui me choque dans cette histoire ce sont les internautes qui prônent l'ouverture, la pluralité des idées et des opinions, et
ceux-la même qui décrient toute forme de censure font ici une démonstration inverse de leur conviction
.
Sommes-nous rentrés dans une "click democracy"
où la frustration de chacun et de chaque jour, noté à l'école, noté par son chef, évalué par l'entreprise,... soit une frustration telle qu'à notre tour nous devons nous même devenir des censeurs dans la vie de tous les jours ?
Est-ce cette frustration d'être jugé, ce statut de nervosité moderne, qui nous donne ce désir de juger un candidat de la Star Ac en un simple click ? Le pouvoir de juger, de virer quelqu'un ou de le garder et de faire de même sur un profil Twitter ?
Nous critiquons les jeux du cirque cruels des romains et les lynchages publics. L'empereur baissait son pouce, nous cliquons avec notre index, alors de grâce soyons un peu plus évolué et ne donnons pas raison à Frederic Lefebvre et montrons lui qu'Internet n'est pas qu'un agglomérat d'ado pré-pubères qui cliquent pour éliminer sans réfléchir aux conséquences...
Oui Frederic Lefebvre n'a rien compris à Internet, oui Frederic Lefebvre raconte des idioties. Et bien justement s'il en dit tant que cela laissez le s'exprimer et les raconter ; au pire il se discréditera lui-même, au mieux il changera d'avis et ça sera bon pour tout le monde.
De toute façon
Internet est assez grand et les recoins assez sombres pour qu'il puisse croupir dans un coin mort du réseau
.
Cette histoire n'aura finalement pas servi la grandeur du réseau mais bien celle de Frederic Lefebvre qui fait un carton
; car sachez messieurs les censeurs que marketinguement parlant il vaut mieux être haï que de laisser indifférent, hé bien je vous le dit il a réussi son coup...
La meilleure chose à faire reste d'ignorer les imbéciles qui ne voient que le côté noir d'internet. Mieux vaut laisser l'infobésité produite par le réseau recouvrir leurs âneries que de mettre de l'énergie à leur fabriquer un trône même si celui-ci est peu glorieux...
Alors pour les plus sceptiques et ceux qui se déclarent, dans leur message Twitter, fiers d'avoir expulser Frederic Lefebvre de Twitter je les engagent à relire Voltaire
qui résume bien cette situation d'aujourd'hui dans une de ses citations :
"Je ne suis pas d'accord avec ce que vous dites, mais je me battrai jusqu'à la mort pour que vous ayez le droit de le dire"
C'était mon coup de gueule du jour, pour un Internet plus intelligent et plus responsable...
-
Permalink - - Liens vers ce billet
J'ai quitté la Silicon Valley après mon expatriation en 2003, je viens d'y retourné pour la première fois depuis 6 ans pour y passer une semaine.
Ce qui n'a pas changé :
- la 101 est toujours en aussi mauvaise état (ils ont pourtant mis du macadam sur qq km du côté de Palo Alto)
- les gens sont toujours aussi optimistes
- les problèmes là-bas ne sont pas des problèmes mais des opportunités
- les start ups toujours aussi dynamiques
- les présentations toujours aussi géniales
- le climat toujours aussi agréable
- les otaries du Pier 39 s'empilent toujours les unes sur les autres
- Le cable car toujours aussi bondé
- Les crabes de Fisherman's Warf toujours aussi délicieux
- Les polaires SF toujours au même prix
Ce qui a changé :
- le prix de l'essence a été multiplié par 3,2 !!
- les voitures ont diminué de taille de manière assez incroyable (pour la raison ci-dessus j'imagine)
- des Toyota Prius partout qui n'ont plus le droit au Car Pool car trop nombreuses !
- on croise plus d'asiatiques que d'hispaniques d'origine
- les business models commencent à être innovants
Libellés : 27, reflexion, silicon valley
Permalink - - Liens vers ce billet
Je vous livre mes notes de préparation d'une table ronde sur le Cloud Computing à laquelle j'étais invité à participer la semaine dernière à Santa Clara. je partageais la Table Ronde avec :
- John Keagy, CEO GoGrid
- Lew Tucker, CTO of Cloud Computing, Sun Microsystem et
- Praven Gupta, VP of Business Development SK Telecom
Pour une meilleure compréhension de mes notes j'y ai ajouté quelques compléments d'information :
___________________
Bouygues Telecom : just starts to investigate the topic
Joke - each time I have a problem everybody tells me : "
put it in the cloud
"
Personal definition :
- Cloud Computing = capability of delivering IT ressources as Service
- For the end user Cloud Computing means there is no hardware acquisition cost, no software licences or upgrade to manage : NO CAPEX ANYMORE
- CFOs likes that
- VC loves that
- The Business becomes more predictable
- The first step to enter the business is lower
- Now start-ups & Enterprises can really focus on innovation (their core business/product)
Bouygues Telecom in the cloud :
- We provide messaging, centrex, telephony, hosting, online collaboration tools, unified messaging,...
- Building the cloud : it's more than that
- What are the options ?
- Build the cloud ? Use the cloud ? Both ?
- Build the cloud :
How many layers do we want to offer ? (IaaS, PaaS, SaaS ?)
Which kind of cloud ? Public, Private, Hybrid ?
If we want to build a Cloud it's more than empiling XaaS layers
It's the capability of combining and recombining them on the fly into specific service customer requirements
For that we need APIs. We need to open our networks APIs
That's the tricky part : that's not in our Telco DNA to open our assets
- Use the cloud :
Very interesting for small operators
Not for billing system or Core Business
For some services : yes, could fast the development
- Both : build and Use
Might own our Cloud and use other Clouds for overflow
- Building a "real" Cloud Computing service (Public) needs massive investments for small operators
- Cloud Computing opens a 2 sided Business Model : Core Business and revenue from our assets
Do Telcos have a major role to play ?
- Yes a major role if they manage to overpass their cultural problems. Telcos Avantages :
- Entreprise sales capabilities : telcos have a long history of selling to enterprises, and some want to have dedicated account team
- It's not just an history of sale : after sale, licle managment, services, support, performance managment, monitoring,...
- Reliability : no beta in Telcos DLNA
- SLAs with financial penalties
- Close to the end users : more flexible for specific requirements
- Full enterprise portofolios : physical phones, VoIP, Mobile bundles,...
Future of Cloud Computing :
- Machine to Machine
- Federated Cloud Computing Services : hey I can do this job : you can roam through Clouds
- To allow roaming between Clods you need : Cloud Networking : NaaS - Network as a Service : The QoS, security rules, bandwith will automaticly switch from one cloud to the new one
- Cloud Computing + Network Coumputing = Something really great (end to end solution)
- Cloud Computing (Public) = massive investment :
Only a few players in the world
Like big malls (US guys love big malls)
Massively mobile access
Huge trafic coming out those malls
Net Neutrlity becoming an issue
- So WebCos, TelCos, Content Provider : we really have to cooperate to build the next Internet to ease innovation
- Green aspect
- To ease the Business of start ups and enterprises we have to move bits but also atoms (physical goods), LaaS Logistic as a Service (like Amazon)
Other aspects :
- Personal cloud
- Homenetwork cloud
Provocative question to the floor :
As a digital citizen of the Web. What kind of Internet do we want ? A centralized Internet ? Sort of Minitel 2.0 with only big clouds (Google, Amazon,...) ? Or millions of individuals clouds like Opera Unite.
The advantage of small clouds is that they do not hide the sun...
-
Libellés : 27, acces a distance, cloud computing, j'aime ce service, reflexion
Permalink - - Liens vers ce billet
Pages >>>>> 25 24 23 22 21 20 19 18 17 16 15 14 13 12 11 10 09 08 07 06 05 04 03 02 01
Top Tags >> mobile (>160) startups mobile (>140) utile (79) application (70) etonnant (41) reflexion (21)...