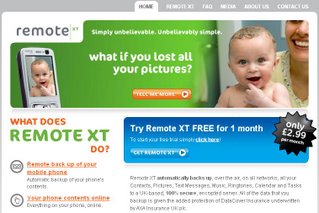 Un des trop rares
services de backup de votre mobile
.
Remote XT
sauvegarde toutes les données présentes dans votre mobile.
Remote XT va réaliser un
back up des contenus
présents dans votre mobile à distance over the air : contacts, photos, SMS, sonneries, musiques, calendrier, tâches,... la sauvegarde est stockée sur un serveur encrypté et protégé par une protection DataCover Insurance proposée par AXA Assurance, ça c'est original.
Les
contenus sont accessibles online sur votre espace personnel
. Lorsque vous changez de terminal Remote XT vous "push" le contenu de votre précédent mobile dans votre nouveau terminal, cool !
Une autre originalité du service
lors du vol de votre mobile
: Remote XT va rendre votre mobile complètement inopérant même avec la SIM retirée. Il est aussi possible d'effacer
over the air les données présentes dans votre mobile
et pour un côut mensuel supplémentaire vous pourrez également
déclencher une alarme stridente
qui ne peut pas être éteinte à moins de retirer la batterie du mobile, mais remettre la batterie redéclenche l'alarme. Si vous retrouvez votre mobile préféré
le tout est évidemment réversible
.
Libellés : 11, j'aime ce service, sauvegarde, startups mobile, synchronisation, utile
Permalink -
0 Commentaires
Links to this post:
Pages >>>>> 25 24 23 22 21 20 19 18 17 16 15 14 13 12 11 10 09 08 07 06 05 04 03 02 01
Top Tags >> mobile (>160) startups mobile (>140) utile (79) application (70) etonnant (41) reflexion (21)...