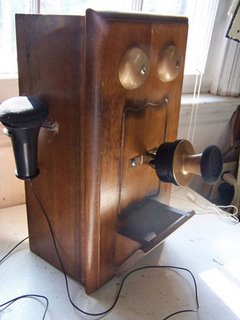 Incroyable, d'après Wikipedia AT&T avait imaginé le téléphone mobile dès 1915 mais avait abandonné l'idée par peur d'une canibalisation du téléphone fixe !!! Des visionnaires !! Il va falloir que je fouille dans mes archives et ressortir les vieilles idées !!
According to internal memos, American Telephone & Telegraph
discussed developing a wireless phone in 1915, but were afraid deployment of the technology could undermine its monopoly on wired service in the U.S.



In 1947 Bell Labs was the first to propose a cellular network

. The primary innovation was the development of a network of small overlapping cell sites supported by a call switching infrastructure that tracks users as they moved through a network and pass their call from one site to another without dropping the connection.

Bell Labs installed the first commercial cellular network in Chicago in the 1970s

.



Japan's first commercial mobile phone service was launched by the NTT in 1978

. By November 2007, the total number of mobile phone subscriptions in the world had reached 3.3 billion, or half of the human population (although some users have multiple subscriptions, or inactive subscriptions), which also makes the mobile phone the most widely spread technology and the most common electronic device in the world.



The first mobile phone to enable internet connectivity and wireless email, the Nokia Communicator, was released in 1996

, creating a new category of multi-use devices called smartphones. In 1999 the first mobile internet service was launched by NTT DoCoMo in Japan under the i-Mode service. By 2007 over 798 million people around the world accessed the internet or equivalent mobile internet services such as WAP and i-Mode at least occasionally using a mobile phone rather than a personal computer.
L'article Wikipedia complet ici
.
-
Libellés : 25, convergence fixe mobile, mobile
Permalink -
0 Commentaires
Links to this post:
Pages >>>>> 25 24 23 22 21 20 19 18 17 16 15 14 13 12 11 10 09 08 07 06 05 04 03 02 01
Top Tags >> mobile (>160) startups mobile (>140) utile (79) application (70) etonnant (41) reflexion (21)...