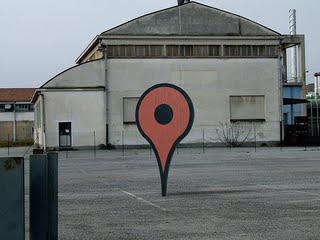 Mon billet précédent "
Une ville en 3D reconstituée à partir de Flickr
", (où des chercheurs on reconstitué 3 villes en 3D à partir de centaines de milliers de photos en 2D prises pas des particuliers et postées sur leur compte Flickr), ma rappelé une expérience que j'avais vu il y a un an environ (pas réussi à mettre la souris dessus...).
Un développeur avait alors eu l'idée d'aspirer les couples "latitude / longitude" trouvés au hasard sur Internet et les avait repositionnés sur un fond blanc,... je vous le donne en mille, la carte du monde était presque totalement reconstituée...
La question que je me pose est que, si finalement
le monde réel à été virtualisé de par l'essence même d'Internet, il semble qu'il soit possible de reconstituer une partie de ce monde réel à partir de fragments non liés et éparpillés de façon aléatoire dans cette amas d'information
.
D'ailleurs un autre exemple qui me vient juste à l'esprit est la reconstitution de notre personne, notre moi, non pas physique mais à la fois identitaire et psychologique grâce à des
identity buiders
qui reconstituent votre
identité
virtuelle à partir de vos différents flux d'information. Ou encore plus récemment le labo du MIT (avec
Personas
) qui non seulement regroupe vos flux et fait une analyse sémiologique pour faire ressortir votre psychologie.
-
Libellés : 26, longitude, reflexion
Permalink -
2 Commentaires
Le 18 décembre, 2009, www.txtimpact.com dit...

thank you for the article...........

www.txtimpact.com
(sms gateway and mobile marketing solutions provider)
228 Park Avenue S
New York

Le 18 décembre, 2009, www.wire2air.com dit...
Links to this post:
Pages >>>>> 25 24 23 22 21 20 19 18 17 16 15 14 13 12 11 10 09 08 07 06 05 04 03 02 01
Top Tags >> mobile (>160) startups mobile (>140) utile (79) application (70) etonnant (41) reflexion (21)...