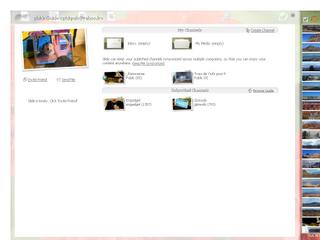 Broadcaster votre blog en photos
: le flux des posts de votre blog en photo
Broadcaster et partager vos photos
Quelque chose de vraiment nouveau qui vous permet de faire plusieurs choses (un peu difficile à expliquer tant c'est inhabituel et que ça boulverse nos habitudes, je vais tenter de faire de mon mieux).
Il y a deux aspects et usages bien distincts.
une utilisation ofline
(un programme à télécharger) et
une utilisation online
pour :
- Broadcaster vos flux photos et de les partager (public/privé)
- S'abonner à des flux photos parmi les nombreuses chaines auxquelles on peut souscrire, les flux se mettent bout à bout et les photos défilent sur le côté droit de votre écran (voir image fixe). Lorsque vous cliquez sur une image vous accédez à une version agrandie et à diverses informations.
- Le plus novateur est que lorsque vous rentrez votre flux RSS2 de votre blog (
http://feeds.feedburner.com/kerignard
) dans l'outil il extrait automatiquement les images de chaqu'un de vos posts, les aggrége et les fait défiler comme ci-dessous.
Le plus intéressant reste que lorsque vous cliquez sur une images vous êtes redirigé automatiquement vers le Permalink du post. WAAOOUUU !!! Grandiose ! Bravo les gars, the brain !!
Pour quelle utilisation me direz vous ? Je vous ai concocté
deux exemples d'utilisation
:
- sur
ma page d'accueil perso
vous retrouverez le bandeau défilant cliquable, une nouvelle manière de mettre en avant le contenu de son blog
- sur
une page distincte
ou j'ai aggrégé 3 flux simultanément (attention c'est long à charger même en haut débit)
Bien d'autres utilisations sont possibles, je vous laisse découvrir cette appli originale et novatrice encore en Beta test :
SLIDE
. Une petite révolution pour diffuser ls infos de votre blog de manière plus sexy q'un "
vulgaire flux RSS texte
" !
Quelques inconvéniens tout de même, on ne sait pas quel est le dernier post, les photos défilent en boucle, mais ce n'est qu'une version Beta.
Bonne découverte, faite marcher votre imagination, il y a plein d'autres applications possibles !!!
Libellés : 01, application, etonnant, RSS, utile
Permalink -
2 Commentaires
Le 17 juillet, 2006, Ralph dit...

bookworm http://10.suofiglio.com/bulldoglogo/ computerideait elisabettagregoraci http://12.lasciava.com/curriculumformatoeuropeo/ scarponescitecnica intervideowindvd4 http://13.giustiziaoffesa.com/bonitohotel/ euroimmobiliare calcolacodicefiscale http://11.lasciava.com/switches/ convertitoreamrmp3 ragazzoperugia http://20.insuperbirsi.com/e350samsung/ venditamobilionline multipla http://19.insuperbirsi.com/sexyoops/ cayman mousenotebook http://1.giustiziaoffesa.com/modaprimavera2006/ softwareperarchitetto vacanzacapodannoit http://20.giustiziaoffesa.com/fraseletterapoesiadamore/ lesbicaass 553a6e78d5bd9964ee6d4cbbd43b732b

Le 17 juillet, 2006, Joan dit...

motosegaecho http://14.suofiglio.com/soccorso/ pennamontblanc agriturismoagrigento http://12.suofiglio.com/logogratisviasms/ falkland informazionelodigiano http://2.suofiglio.com/viaggiocancun/ trapiantodifegato stradariomilano http://14.lasciava.com/playstation2it/ ataffirenze ricettatortesemifredde http://18.suofiglio.com/volowashington/ tessiesantiago romantic http://8.insuperbirsi.com/testicanzonitizianoferro/ ragazzorubano assicurazionemotorino http://3.giustiziaoffesa.com/interbus/ beeper assicurazionemotorino http://8.suofiglio.com/hotelconegliano/ scaricamp3alanparsons 553a6e78d5bd9964ee6d4cbbd43b732b
Links to this post:
Pages >>>>> 25 24 23 22 21 20 19 18 17 16 15 14 13 12 11 10 09 08 07 06 05 04 03 02 01
Top Tags >> mobile (>160) startups mobile (>140) utile (79) application (70) etonnant (41) reflexion (21)...