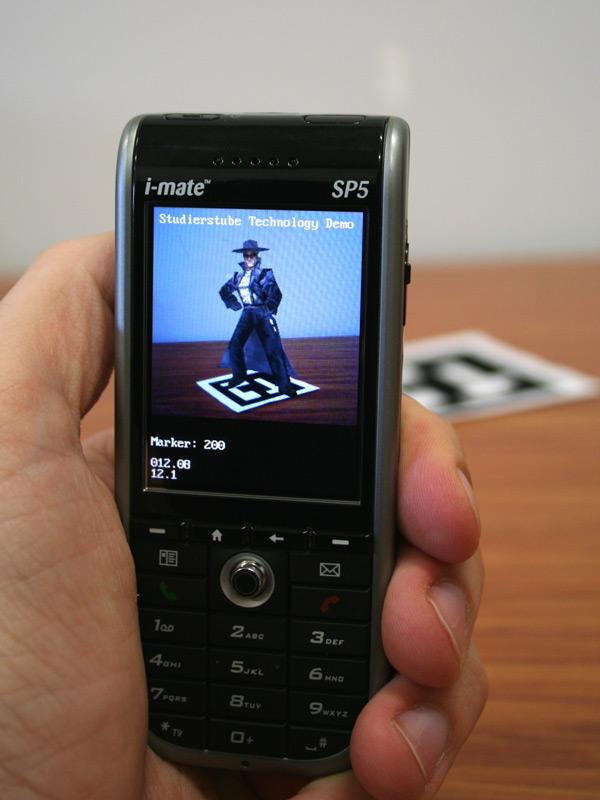 Concernant cette appli c'est un peu difficile a expliquer simplement, le principe est que
votre mobile peut vous permettre de voir des choses qui n'exitent pas
(si, si) grâce à la cellule photo du mobile... ça n'a pas l'air clair?
Je recommence alors : imaginez qu'avec votre mobile vous "filmiez" un espèce de code bar collé quelque part, avec les yeux vous voyez un "espèce" de simple code bar 2D, mais avec votre mobile vous voyez quelque chose posé sur ce code bar, quelque chose de virtuel, c'est de la réalité augmentée, à chaque code bar peut être associé quelque chose de différent. Toujours pas compris ? Alors regardez
la vidéo de démonstration
ici
ça sera plus simple pour moi !
Allez, RV dans deux ans sur le mobile de Madame Michu... par contre le code barre c'est pas terrible faudrait imaginer quelque chose de plus sympa, reconnaissance d'image, de photos par exemple...
Plus d'info sur
ARToolKit
is a software library that can be used to calculate camera position and orientation relative to physical markers in real time.
Libellés : 03, application, etonnant, interface, j'aime ce service, mobile, realite augmentee
Permalink -
2 Commentaires
Le 15 mars, 2006, alain dit...

Le 16 mars, 2006, dit...
Links to this post:
Pages >>>>> 25 24 23 22 21 20 19 18 17 16 15 14 13 12 11 10 09 08 07 06 05 04 03 02 01
Top Tags >> mobile (>160) startups mobile (>140) utile (79) application (70) etonnant (41) reflexion (21)...