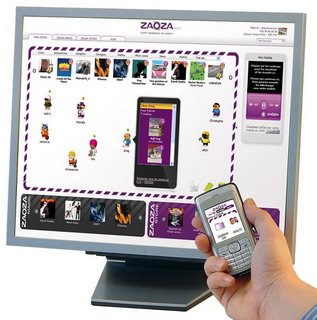 zaOza
est un site de
partage de contenu entre amis (fixe vers mobile et vice-versa) et de transfert de contenus entre votre PC et votre Mobile
.
zaOza se situe dans la droite ligne de Goojet avec des services et une ligne éditoriale toutefois différente. zaOza semble confirmer la tendance des sites web/mobile convergents avec des interfaces intuitives basées sur le glisser/déposer sur la symbolisation d'un mobile qui apparait à l'écran.
Ici, grâce à zaOza vous allez pouvoir :
- Accèder à des contenus inédits issus de catalogues officiels de jeux, musique, animation, vidéos, humour, animation (abonnement illimité 3€/mois)
Le catalogue des contenus est assez impressionnant :
EIDOS, THQ, Vivendi Games Mobile, iPlay, EXTRA Live, BECAUSE, EMI Music, SONY BMG, UNIVERSAL Music, BELIEVE, Aardman Animations, Mill'images, Moot Moot, Mobibase, Start Mobile
Le reste des services est gratuit :
- Echanger des contenus perso entre PC et Mobile
- Visualiser vos contenus
- Partager vos contenus en un clic avec vos amis qui apparaissent sous forme d'Avatar sur votre écran de PC
L'interface est assez sympa, le service combine à la fois des services gratuits intéressants, les services payants sont à 3€ pour un accès illimité. Le site en beta test depuis décembre tout celà pour vous dire que le site sera en beta public à partir de demain le 20 février 2008.
-
Libellés : 19, acces a distance, application, communaute mobile, convergence fixe mobile, interface, mobile, startups mobile, synchronisation
Permalink -
3 Commentaires
Le 20 février, 2008, Cedric dit...

C'est vrai que le portail zaoza a quand même un fort air de Goojet...
A vérifier quand zaoza sera ouvert aux tests ;)

Le 08 avril, 2009, dit...

Ca fait un an que c'est lancé et ca décolle toujours pas leur truc.
Pas de budget pour la com ou quoi ???

Le 11 février, 2010, wire2air dit...

Thanks for your post


SMS Gateway Services from wire2air makes it easy to stay connected with your customers, clientele or mobile organization. We have a wide range of mobile communication servicesincluding Web SMS, Email to SMS Gateway, Mobile Site Builder' , Mobile Site Bulider ,MMS SMS API Interfaces, and 5 or 6 digit shared ShortCode / shared dedicated shortcode .
Links to this post:
Pages >>>>> 25 24 23 22 21 20 19 18 17 16 15 14 13 12 11 10 09 08 07 06 05 04 03 02 01
Top Tags >> mobile (>160) startups mobile (>140) utile (79) application (70) etonnant (41) reflexion (21)...