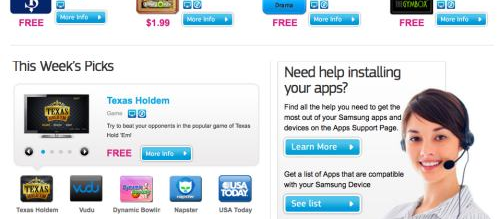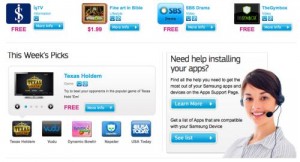 Via ProductReviews
Samsung Smart TV Apps is not even a year old yet, and already the company is expanding the payment options for its customers when they download them. This is also the case with the mobile apps as well. Now with this new way of paying, you will be able to pay for your apps in just two clicks, and will be charged to your cell phone.
You can still choose to pay for these apps using your credit card etc, but some customers will like this newest payment option, as it will be much easier for people. Having said that, those who have their cell phone contract on business had best not pay for their Samsung Smart TV apps on their account – what would the IRS say?
The rollout of this latest service began on April 28th in the U.S., and will expand to other countries throughout the year. In that time Samsung will surly launch yet newer features to their Smart TV range – have to love how other countries get left behind a little. However, at least this would give the consumer electronics maker enough time to iron out all of the bugs – if there is any.
Samsung Electronics today announced the 4th of May that Samsung Apps, its mobile and TV application store, is expanding the payment options available to customers when downloading apps.
These simple and secure processes allow the customer to purchase an application in just two clicks. The price can be charged on a phone bill or be deducted from a SIM card balance.
Since it launched in June 2010, Samsung Apps has offered various billing options including credit card, prepaid cards and cyber cash. The addition of these new methods provides further convenience and ease of payment, meaning customers no longer have to enter sensitive information such as credit card details.
The new options will be rolled out in a phased approach during 2011. From April 28, phone billing will be expanded to the UK and other countries including the following: Germany, Austria, Denmark, Finland, Norway, Sweden, Ukraine, Vietnam, Thailand, Indonesia and India. Samsung Apps plans to expand the new payment options to more countries later in the year.
To mark the new billing launch, Samsung Apps is launching a promotion called 'Buy Hot Apps, Get Cool Gadgets!' App store customers who make a purchase during the promotion will be automatically entered into a prize draw and selected at random to win prizes. All Samsung Apps customers using Samsung Wave smartphones are eligible to enter. The promotion will run from 17 May to 20 June, with the winners announced on 27 June.
"At Samsung Apps we're committed to doing all we can to provide our customers with an enhanced user experience" said Keith O'Brien, head of content, mobile, Samsung UK. "The new payment method offers flexibility, choice and ultimately a simpler purchase journey."
Providing over 15,000 applications in 120 countries, Samsung Apps has continued to prove its success by reaching 10 million downloads in its first three months and reaching 100 million downloads in March 2010, just ten months after the store opened.