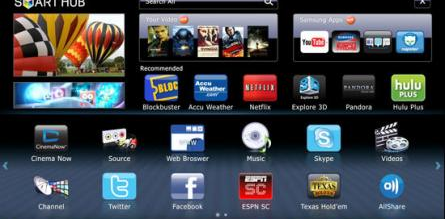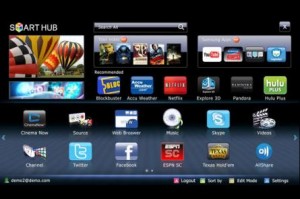 Source : Hands on with Samsung's Smart TV – samsung, IPTV – PC World Australia.
At a recent event in Singapore we got the chance to test the Samsung Smart TV service that's going to be a major part of Samsung's 2011 plasma and LED TV line-up. It's an evolution of last year's Internet@TV Web feature-set, and there are some nifty new features that we'll be seeing on Australian Samsung TVs.
Smart TV is Samsung's name for its range of applications that can be downloaded and run on its LED and plasma TVs. These applications range from time-wasters like games, to social networking services, to video on demand offerings that provide a diverse library of content that means you don't have to rely on digital TV or Blu-ray video for viewing.
Samsung's Smart TV applications interface — it's called Smart Hub — is set out in a grid that's vaguely reminiscent of the Apple iPhone or iPad's iOS. It provides access to the same applications library that last year's Internet-ready TVs like the Series 7 LED, Series 7 plasma and Series 9 LED TV had. There are a couple of new inclusions, though, that should make the service easier to use and more integrated with normal TV or movie viewing.
From our test, we found the Smart Hub interface to be well laid-out and easy to use. A major change from last year's service comes in the form of the Search All feature, which niftily searches through all the content in the over-the-air digital TV guide, on any networked device and also on the Internet itself. Samsung demonstrated Search All to us by searching for the name of a TV show; the results that came up included a future listing for a digital TV broadcast, and a series of clips on YouTube. We presume that if a networked computer had some video episodes of that TV show with the right metadata, they'd show up as well.
The full-screen Web browser that appears in Samsung's mainstream and premium LED and plasma televisions is a crossover feature — if there isn't an appropriate Web application for what you need, you can use the Web browser instead. The interface is designed to be used with Samsung's remote control but typing in Web addresses using the numeric pad will still be an annoyance for most users. Despite this, it means you don't have to find your laptop or go to your computer to find information — and there are times when using a good ol'-fashioned Web browser is better than a tailor-made app.
Your Video relies on your previous online TV and movie watching history to build up a list of recommended viewing — avid sports watchers might get a list of archived matches to watch, for example. This will work in tandem with the BigPond Movies on Demand service that Samsung TVs have had since mid-2010.
It's been available for a little while — since just after Christmas — but BigPond TV is available through the Samsung Smart TV service. BigPond TV, which is also available on the Telstra T-Box, includes seven linear streaming TV channels — news, music, and various sports including NRL and the V8 Supercars. If you're not impressed with what's showing on free-to-air digital TV, you've run out of DVDs and don't want to purchase a movie on demand or pick a streaming TV show to watch, you should be able to find something on BigPond TV.
All the existing apps that 2010 Samsung TVs could access are still available, like Twitter, Facebook, Google Maps (a GoodGearGuide favourite), ABC iView, and Skype (once you've plugged in a compatible webcam). They're all free to install as well — the only time you'll have to pay is if you're purchasing a movie rental or back-catalogue TV show.
Samsung's Smart TV service will be available on most of its LED and plasma TVs — only budget models won't be able to access the full gamut of features. It'll also be a prominent feature of some of the company's upcoming Blu-ray players, which should make them a great buy for anyone looking to extend the life of their old television. Most of Samsung's TV and home entertainment line-up should be available in stores from mid-April, but we'll know more specifics at the start of the month.