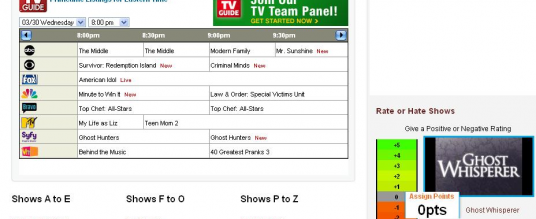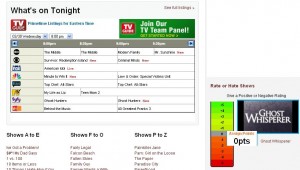 Via tvaftertv
BuddyTV Guide App Provides Nationwide TV Listings and Controls Logitech Google TV with Netflix and TiVo
When it comes to controlling your TV, we all know there's an app-or several, in fact-for that, but how about one that easily controls Netflix, Logitech Revue with Google TV and TiVo, plus offers a real-time, integrated program guide along with recaps, photos and other content on all your favorite shows?
BuddyTV, the world's largest independent TV entertainment site, has launched an updated version of the BuddyTV Guide that does just that. Andy Liu, CEO of BuddyTV, explains, « One of the great things about BuddyTV Guide is that users quickly find what they want to watch via TV show listings and search. They also never have to learn where buttons are for a new remote control since they can tap to watch or use powerful gesture swipe commands for all devices. »
With the BuddyTV Guide App, users can:
- View TV show listings anytime on their device
- Search for shows on their TV listings and Netflix as easily as typing a text message
- Tap to start watching their favorite show on T*
- Control connected TV devices with simple swipe gesture commands
- Set-up calendar show reminders to never miss their favorite show
- Read BuddyTV exclusive recaps, quotes, and episode guides
- Invite friends to join and watch a show that's on now or in the future
- Comment on shows and check-in on Facebook or Twitter
- Discover new shows and check-out what other people are watching
BuddyTV Guide remote control features work best with Google TV Logitech Revue, TiVo Series 3, and any devices controlled by Logitech Revue.
Bill Baxter, CTO of BuddyTV, states « After people find what they want to watch, they can easily comment and check into their show via Facebook and Twitter. In addition, they can also see what other people are watching to catch on to trends like a season premiere or finale. » The BuddyTV Guide app is available as a free download for a limited time at the Apple iTunes Store.
About BuddyTV
Since 2005, BuddyTV has offered a fun, friendly and entertaining guide to what's on television-with a side of wit-and a community in which fans can engage and interact with our TV-fanatic staff writers and other viewers. BuddyTV publishes op-eds, slideshows and recaps on shows; lists of the good, bad and ugly of what's on TV; as well as trivia, personality quizzes, fantasy TV and other games.