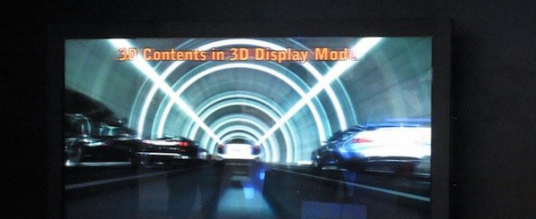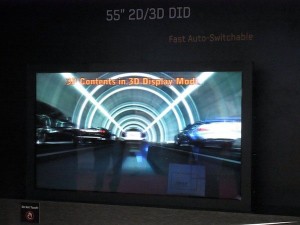 Via WorldTVPC
To prove that glasses free 3DTV does not need to be shown on a tiny screen, Samsung's new prototype 3DTV comes on a massive 55 inch screen and is completely glasses free. Currently for the glasses free 3D to be effective, it needs to be shown on a small screen such as the Nintendo 3ds.
The glasses free 3DTV sets currently in development have the problem of seeing the 3D effect at all viewing angles which is not an issue with the technology on handheld gadgets. Unless you were able to predict the direction that the viewer was watching from, the 3D could not be experienced in any real sense of the word.
With the handheld devices, it is easy to predict where a user's eyes are going to be that they will need to hold the unit with both of their hands. It appears that Samsung's new 3DTV is said to have fixed that drawback.
The new prototype which was shown in China at a trade show, is not perfect but supports up to 9 different viewpoints. According to the manufacturer, the viewers are going to be able to get glasses free 3DTV whilst viewing from up to 9 different angles in front of the 3DTV.
This feature alone makes the device stand apart and is perhaps the best solution amongst the glasses free 3DTV sets we know about.
The 3DTV is furnished with a LCD panel whose optical refraction index can be changed in front of another LCD panel incorporated in the device which is used for displaying images. The first LCD panel functions as a lens and shows different images to the right and left eyes.
The change in optical refraction index leads to 3D viewing and otherwise will result in 2D images. The 3DTV also offers full HDTV at 1080p and a brightness of 500cd/m2 and also a static contrast ratio of 4,000:1.
The only problem is that the TV may not be with us for three long years (which is exactly how long James Cameron said to wait before buying 3DTV). By that time there will probably be lots of glasses free 3DTV sets for sale.